Seems like yesterday when at Abylight we announced the long-awaited release of the physical collector's edition for Nintendo Switch of Cursed Castilla, one of the neo-retro masterpieces created by our beloved Locomalito.
The response from the players has been fantastic and due to the great number of pre-orders during the summer we had to create a second edition… and now we are proud to announce that there will be a third edition soon!
More players will be able to enjoy the adventures of Don Ramiro in its ultimate physical release for Nintendo Switch, and that makes us extremely happy.
On the other hand, the new year has also brought a significant increase in production costs and we are forced to raise the price of this third edition to 59,95€ to ensure that Cursed Castilla Collector's Edition will continue to maintain the high level of finish and quality materials that it deserves (and that you deserve!).
Shipping costs for some destinations will also increase slightly. At Abylight we are committed to always packaging your games with care and well protected so that they arrive at your hands safely and in perfect conditions.
We don't want so much effort and work to end up damaged during transport. Besides, we know that many of you are collectors and it is very important that your copy is just spotless 😉
Why a Collector's Edition?
Many of you often ask us why we make special editions instead of the usual standard editions. Or even why we bother to make physical editions when nowadays digital is all the rage.
The thing is that at Abylight we don't settle for the standard and we are fully committed to the games we publish. We can't imagine working in any other way!
Gems like Cursed Castilla or Hyper Light Drifter – Special Edition deserve a physical edition worthy of their titles, don't you think?
Besides we don't want to limit ourselves to just putting games in a box. The collector's editions we create at Abylight are a work of passion for the games they contain. We put a lot of love and effort into designing the editions and deciding what extras they will include, always thinking about expanding the gaming experience and adding value for the fans.
What's inside Cursed Castilla Collector's Edition for Nintendo Switch?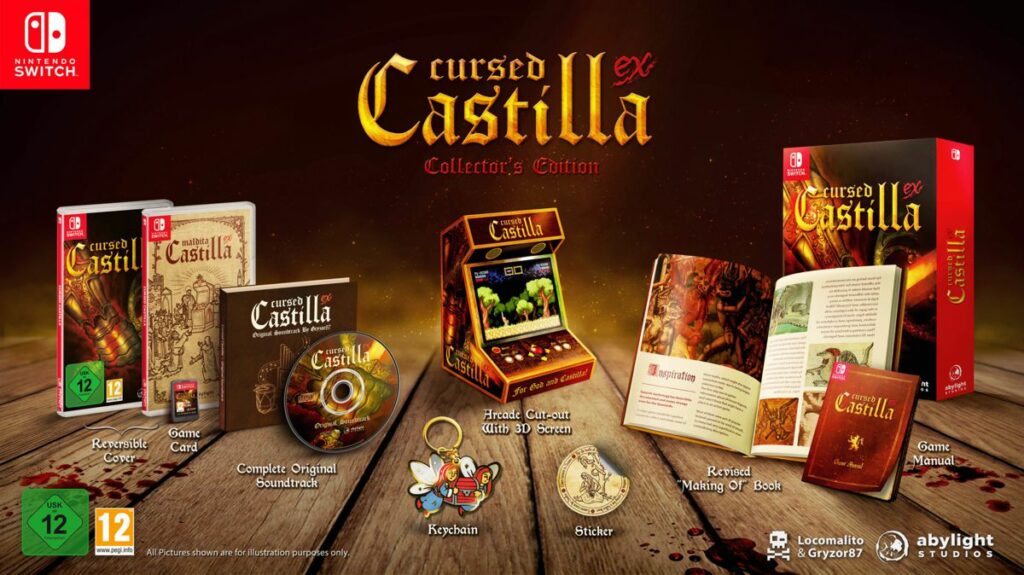 Arcade Cut-out: Build your own cardboard arcade cabinet, with 3D lenticular screen, and bring some of that classic arcade spirit into your home.
Key-chain: A metal key-chain, gold plated, hard enamel.
Making-of book: From his freeware roots, to his collaboration with Abylight, the amazing journey that began in Locomalito's notebook is now documented in a 36-page hardcover book.
Sticker: A circular sticker with an exclusive design representing a scene from the mythology of Cursed Castilla.
Soundtrack: The complete Original Soundtrack, composed by the legendary Gryzor87, in digipak format.
Manual: A 24-page color manual, with information about all the creatures and myths in the game.
Reversible cover: Choose between the classic cover and an alternative design inspired by the style of old medieval engravings.
Game card: Of course, the game card for Nintendo Switch.
Get Cursed Castilla Collector's Edition for Nintendo Switch and help Don Ramiro to banish the evil from the cursed lands of Tolomera del Rey.
A true tribute to arcade classics, with the fun and polished gameplay that only Locomalito and Abylight can achieve.
Stay tuned to the Abylight Shop because we will soon have more news to share with you!